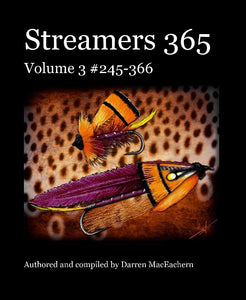 Streamers 365 Volume 3 Digital Download
The year 2012 saw an incredible project unfold, where more than 50 streamer fly tyers from all corners of the globe came together to contribute to a daily streamer presentation. This project was truly a celebration of the art and craft of fly tying, showcasing the diversity and creativity of the fly-tying community.
The streamers included in this undertaking were a mix of classic patterns from the streamer pioneers, as well as many new and previously unpublished patterns that were destined to become the classics of tomorrow. These patterns represented a wide range of styles, techniques, and materials, providing inspiration and insight for fly tyers of all skill levels.
Volume 3 of this project includes patterns #245-#366, featuring a collection of streamers that are sure to inspire fly tyers everywhere. Whether you are an experienced fly tyer looking for new challenges, or just getting started in the craft, this collection of streamers is sure to spark your creativity and push your skills to the next level.
---
We Also Recommend