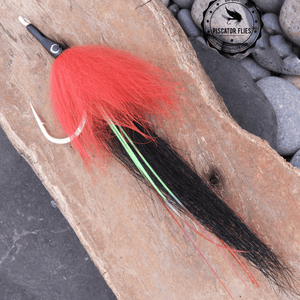 Black Death
The Black Death tarpon fly is a true classic. It's been around for many decades and has been a goto for anglers and guides targeting tarpon. The color combination is a great attractor for tarpon, particularly on dark days. This saltwater fly is tied in what is known as the Florida Keys styles tarpon fly. The tails of the flies are tied as far back on the hook as possible to prevent the tail materials fowling on the cast. 
Tied on strong razor-sharp Gamakatsu SC15 hooks or similar

Classic red and black triggers tarpon

4+ inches long

Whip finished and double coated UV resin heads for extra tough flies
In addition to being great flies for targetting tarpon, these Black Death flies are great for bass and pike.
---
We Also Recommend