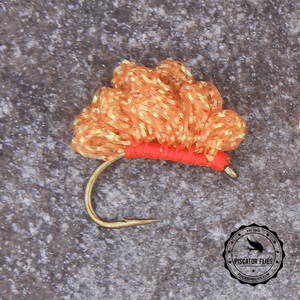 Orange Crystal Sucker Spawn
Steelhead in the Great Lakes tributary rivers can often be found staging behind spawning suckers in the springtime, gobbling up the rich spawn that drifts downstream. The Bead Head Crystal Meth Sucker Spawn is a fuel-injected version of the Sucker Spawn fly pattern, a fly tied to represent sucker fish eggs. Anglers armed with a range of colors and sizes are often rewarded with a hard tug on the end of their line. 
Tied on strong TMC 2457 hooks

Unweighted for anglers who use split shot and sink tips

Fortified with extra glue on the exposed thread wraps

Whip finished and cemented heads for extra tough flies

Available in 3 sizes and 6 colors
The Crystal Sucker Spawn is a perfect fly for fishing with on the Great Lakes steelhead and salmon rivers as well as for coastal migratory and Alaska runs too. 
---
We Also Recommend